Full Lower Acrylic Denture on Locator Abutment
Time to complete the case – 4 clinical visits:
Visit 1 • Primary implant level impression
Visit 2 • Record the bite
Visit 3 • Denture wax try-in
Visit 4 • Denture fit appointment
Laboratory stages
Order the laboratory analogues, locator's abutments and Male Processing Package.
Cast model from primary impression & make wax bite block.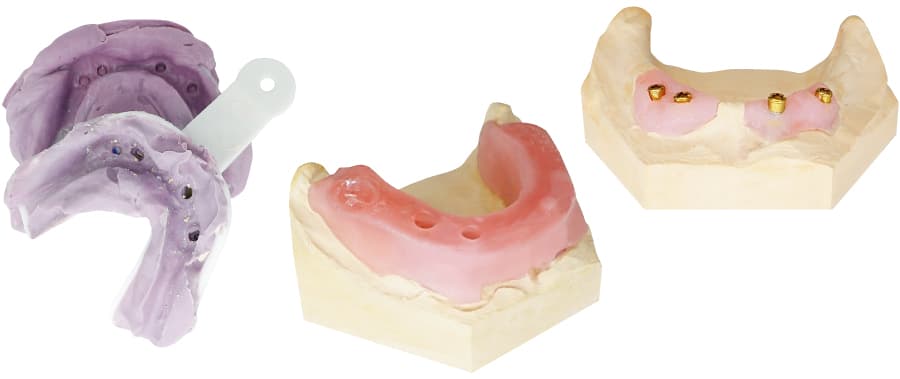 Articulate models to bite supplied.
Wax up try-in with Locator abutments.
Finish denture in high impact heat cured veined acrylic.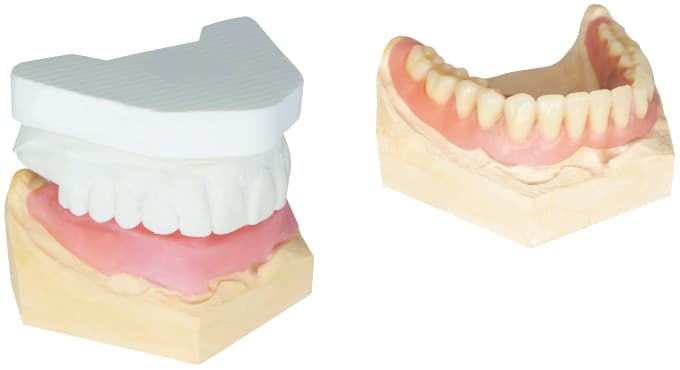 Cold cure the metal housing under the denture.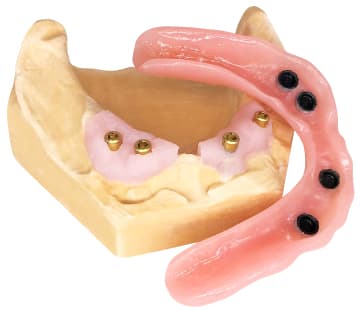 Advantages
Low laboratory cost
Quick & easy to manufacture
Easy for the patient to remove & relocate even if manual dexterity is failing
Super easy to keep clean
Full functional appliance
Dentures have been shown to improve self-esteem in patients
Dentures support facial muscles and aid speech for patients
Disadvantages
Can discolour from coffee, wine or cigarettes
Material can absorb bacteria and start to smell if the patient doesn't clean it daily
The locator housings may lose some of their retentive properties after some time and need replacing
Patients may have difficulty eating for a short while & struggle getting used to their new denture
---
Legal disclaimer
In addition to MediMatch's normal terms and conditions we would like to point out that:
This protocol is based on very limited experience Medimatch has with their cases and should only be used as an indication and not restrictive in any way or form.
This protocol was not based on experience in a clinical environment. Clinicians will use their own technique, according to individual experience and training.
This protocol should not be followed if the circumstances are different or if in any way or form it is clinically not appropriate to follow it even if the circumstances are similar as in the protocol. Each clinician should make their own decisions and not be restricted to following a protocol made by Medimatch Dental Laboratory Ltd.
MediMatch Dental Laboratory Ltd is in no way liable for any clinical procedures and will not take responsibility for the use of the content of this protocol in a clinical or non clinical environment. Each clinician is ultimately responsible for their own clinical decisions regardless of any advice given by MediMatch Dental Laboratory Ltd in any form.