Machinable materials:
Composites

Plastics

Zirconia

CoCr
Maximum freedom of indication
crown
bridge
inlay/onlay
abutment
veneer
The extremely compact design of the K4 edition is a real eyecatcher. A closer look at the four-axis dry milling machine reveals its rigid structure. This ensures first-class results – even when working with extremely hard cobalt-chromium-based NEM materials.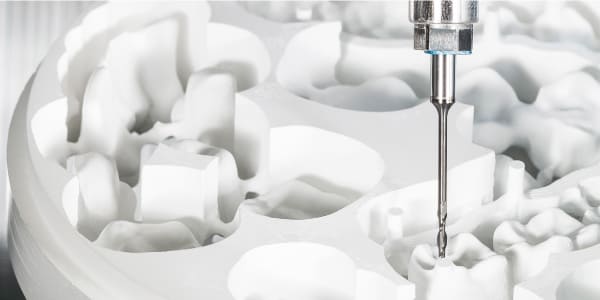 Maximum precision
Restorations in HD
High-quality spindle with 4-point bearing for maximum concentricity accuracy
5 microns repetition accuracy
High rotational speeds of up to 60,000 RPM
Automatic axis calibration
Automatic changer for 7 tools
The K4 edition is equipped with an automatic tool changer for seven tools, which enables the complete machining of a blank without further intervention by the operator.
vhf precision tools
• Grinding and milling tools with sophisticated cutting geometries
• For machining all material classes: wax, PMMA, zirconia, composites, titanium, cobalt-chrome, and glass ceramics
• First-class service life, best quality and attractive prices
vhf DentalCAM
• High-performance software package with open STL import for all common CAD programs
• Optimized CAM strategies for the fastest possible machining
• Perfectly adapted for all vhf dental milling machines – for predictable first-rate results